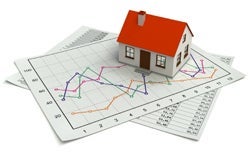 Whether buying, selling or refinancing, it's important to know your home's market value. A Comparative Market Analysis (CMA) is a tool that can help determine what a wiling-and-able buyer would pay for a home by comparing it to similar properties that have recently sold in the area.
IF YOU ARE A SELLER, a CMA includes the following critical information:
Recent selling prices for homes similar to yours.
The length of time these homes were on the market before they sold - how long it will likely take for your home to sell.
The homes you would be "competing with" should you decide to list your home right away.
A CMA can help you determine how much to offer on a listing you want to purchase.
A CMA will give you some indication of what to expect when you have your home formally appraised.
WHAT TO LOOK FOR IN A CMA:
To gain an understanding of your local market, have your real estate professional bring you up to speed with a CMA. The data in the CMA report should include:
Currently available comparable listings:
If you are selling your home, this is your "competition." Remember that how you price your home relative to the others on the market is critical to your success. It's also a good idea to visit open houses in your area to see how your home compares aesthetically.
Pending sales:
Although the actual sales price might not be made public until after closing, analyzing pending sales with your real estate agent can help you determine a list price range that is most likely to generate offers.
Sales that occurred within the last six months:
These sales represent the most recent activity and will serve as "benchmarks" for the price of your home. Your real estate agent will analyze these sales to determine current conditions, but if the market is changing rapidly, he or she might shorten the time frame to three or four months. For each listing, your CMA can show how long the property took to sell and if the sellers had to lower their price to attract a buyer.
Expired listings:
These are listings that did not sell during the contract period and usually indicate the "high water" mark. If a home doesn't sell during a listing period, it's likely that it was priced too high. Analyzing this data will help you avoid the dangers of overpricing your home.
Making Your CMA Work for You
A Comparative Market Analysis (CMA) is a professionally prepared report that details recent listing and sales activity in your local market.
A completed CMA typically includes a recommended price range for your property. Some real estate agents may also make observations about the property or its perceived selling points.
Keep in mind that estimating the sales price of your home through a CMA involves a certain amount of interpretation. It's easiest to get accurate sales prices in housing tracts where all homes are very similar, while it's more difficult in neighborhoods with a lot of variability in home size, style and condition. Know, however, that a CMA prepared by an agent with awareness of the local area is usually a good indicator of the market value.
Whether you are a buyer or a seller, remember that a  CMA is not an appraisal. A real estate appraisal is a comprehensive evaluation performed by an independent professional appraiser that involves additional data and processes.
Even if you don't plan to buy, sell or refinance a home, a CMA can be a helpful tool for determining your net worth for estate planning, insurance coverage or borrowing purposes.
Remember that a CMA is a "snapshot" in time. The market constantly fluctuates, so it's important to obtain a new CMA each year from your trusted real estate professional.