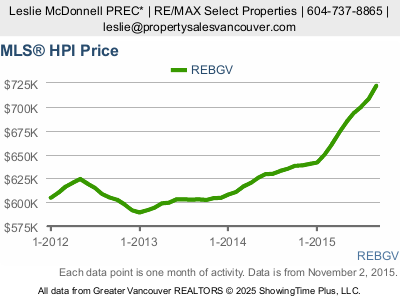 While attending the CMHC Annual Housing Outlook presentation, I took a few notes from the presenters that I would like to share with you.
3 main issues that are a concern in the Vancouver market

Affordability

Ever present spectre of a housing bubble

Foreign investors·        

Housing Demand

Solid Housing demand through 2016 – 2017 

Growing population – 1% up – moving here from other countries, however mostly on the non-permanent side – stronger effect on the rental market – 25 – 30,000/year

Economy growing – predicted to grow at a faster rate that other provinces

Employment increasing – however a shift toward full-time employment

Low mortgage rates aid affordability ·  
Interest are expected to rates to slowly rise late in 2016/2017·        

Composition of Buyers
Repeat Buyers – 50%

First time home buyers – 34%
Domestic Investors – 12%
Millennial and Retirees will Drive Demand

Even more of a shift in 2025 when there is a greater increase in retirement 
Vancouver is expected to have almost 3,000 new household added each year

Foreign Investors – 4%  
75% of property assessments are sent to Vancouver addresses – show immigrant buyers, versus foreign investors. This does not give us definitive proof.
5% total of property assessments are being sent to other countries

2009 Hydro study 5-8% downtown condos are 'dark' – unoccupied. Larger % in Coal Harbour

2011  Census data – 6% of condos unoccupied

2014 – 25% of condo stock in rental pool

2012 – 2% of condos owned by foreign investors – closer to 6% in downtown Vancouver

Certain neighbourhoods and specific buildings are more affected than others, but overall, the foreign investment impact on the Vancouver market is minimal·       

New Construction
Approx 42,000 home sales in this year, on par with the max in 2009. Forecast to see this level off a bit, but still remain high

When you take into the consideration the amount of demolitions, the new construction rates are very stable

New homes are absorbed quickly

Supply of unsold homes has decreased ·        

Single Detached Homes
More sales at the high end, strong demand for all price points, shrinking proportion of new construction for single family homes·        

Townhouse
Supply of Resale Listings and Record lows

Construction Concentrated and Trending down

Will the town home be the new detached house?·       

 Apartment
MLS Re-sales and Prices trend higher

Strong demand keeps new condo inventories low

Rental vacancies remain low
More inventory coming

Total supply of unsold new condos is modest – currently approx 8 months supply – only 10% of new sale condos are unsold

70% of investors own only one secondary unit

46% have no mortgage on their last purchased unit·        

Rental Market

Need to have approx 45% down to even out the cash flow for a rental unit

Low vacancy rates keeps the rental demand high

Rental condos far surpass rental built apartment for demand and supply·        

The Vancouver Market maintains a weak overheating, price acceleration, overbuilding with moderate overvaluation. 
Housing Market Assessment FrameworkLooks at 4 keys factors that are taken into consideration for the assessment
Overheating
a measure of the balance of supply and demand. Use the sale to list ratio to determine
Price Acceleration
adapted from financial market research 

try to identify evidence of speculation 

Overvaluation
Compares actual house prices to the prices that can be supported by fundamentals, such as GDP, employment. Use for different models – demand, supply, income/interest rates – borrowing capacity, and a hybrid model that uses all of the previous 3

Overbuilding
a look at the new home market and the supply response to the demand·          

Overall for Canada, we see moderate evidence for overvaluation. There is evidence that Toronto's, Montreal and Quebec market has a stronger evidence of overvaluation, whereas Vancouver went from weak to moderate
In Vancouver and Toronto, overvaluation reflects strong price growth in the single-family segment not fully supported by economic drivers·          
Household debt continues to rise in Canada due to residential mortgages, personal lines of credit and credit cards
Mortgage credit has been stable in recent months
There is concern because much of the debt is not liquid and increases vulnerability
Ensuring that the consumers have good credit rating is one way of mitigating the risk
Mortgage delinquency rates have improved across key centres, and for Canada overall.

The long story short is we can expect demand to continue to rise in Vancouver, prices to remain strong and builders continuing to create more inventory for this every growing market.