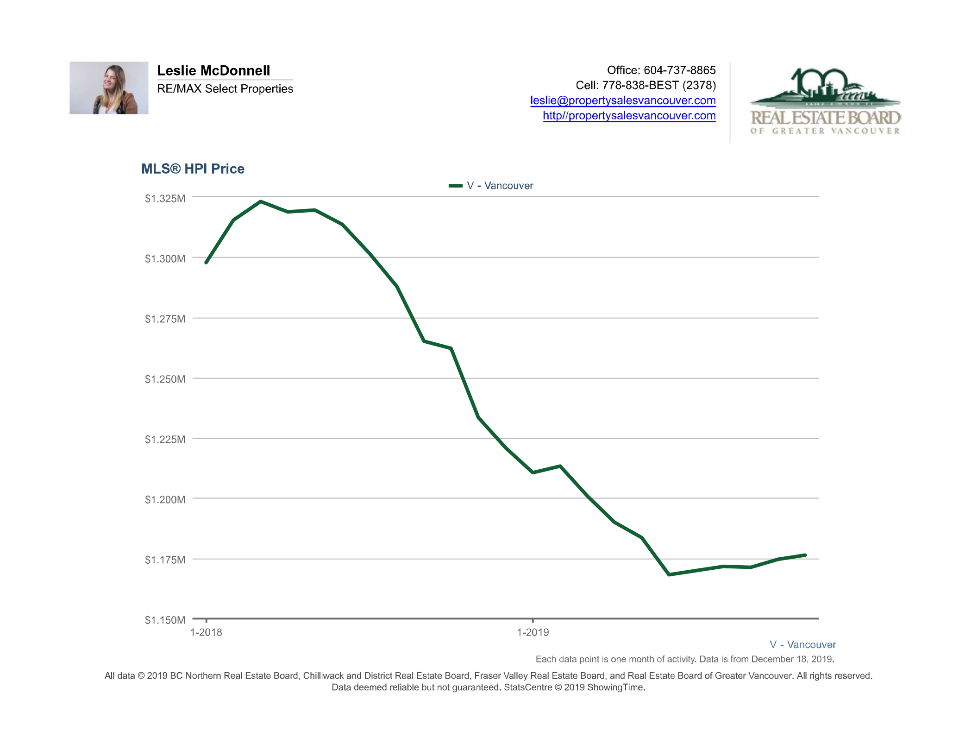 The Vancouver Real Estate market certainly saw some interesting times this year. 

For the first 6 months of 2019, in the Real Estate Board of Greater Vancouver, approx. 10,000 of the 14,500 agents had not made a single sale!

A large portion of this slow down had to do with government-imposed taxes. We saw the foreign buyers tax implemented in 2016 and that has risen from 15% to 20%.  Additionally, there is now a BC Speculation and Vacancy tax that has gone from 0.5% to 2%. In Vancouver, there is also the Vancouver Empty Homes tax, which will be going from 1% in 2019 to 1.
25% in 2020.

Multiple changes made to the Property Transfer Tax. In 2015 the tax was calculated as 1% on the first $100,000 and 2% on the balance. 
Today, the property transfer tax rate is:
·

       
1% on the first $200,000,
·

       
2% on the portion of the fair market value greater than $200,000 and up to and including $2,000,000,
·

       
3% on the portion of the fair market value greater than $2,000,000, and
·

       
If the property is residential, a further 2% on the portion of the fair market value greater than $3,000,000 (effective February 21, 2018).
If the property is classified as residential and farm, or is residential mixed class (such as residential and commercial), you pay the further 2% tax on only the residential portion of the property.
There have also been increases to annual property taxes. All of these measures have been affecting the demand side of the equation. 

As you can see from the chart about above, we have seen a drop in the residential real estate prices. In March, 2018, the Home Price Index* for a home in Vancouver proper (detached house, townhouse and condo included) was $1,323,100. That number dropped to $1,176,300 in November last month, which calculates to an 11% drop in the market prices for Vancouver. Clearly these tax measures have had an effect on the Vancouver Real Estate market prices. 

That said, Vancouver property owners should not be feeling too bad. Since January 2016 the Home Price Index for a home in the same category has risen 18% - that is a pretty nice increase in a 3 year period. Even better is if we look back to January 2014 - the market has increased by 54%.

When looking to the future, it is comforting to know there is a lot of demand coming to Vancouver, regardless of the higher taxes. Big companies are bringing offices to downtown Vancouver. There is 1.8 million sq ft of Commercial space under construction with a substantial amount of it already pre-leased. The following is a list of companies that are setting up offices in Vancouver:


·

       
Amazon committed to the balance of the space at the Exchange (475 Howe Street)
·

        
Mastercard Technologies leased 40,000 sq ft at the Exchange (475 Howe Street)
·

       
Spaces took 12,000 sq ft on the lower floor of the Hastings Building (1199 Hastings Street)
·

       
Kabam committed over 100,000 sq ft in Vancouver Centre at 753 Seymour Street
·

       
Apple took 60,000 sq ft at 400 West Georgia Street
·

       
DLA Piper and EY both committed to around 60,000 sq ft each at 1133 Melville Street
·

       
WeWork continued to expand their reach and leased 7 floors at 333 Seymour Street
·

       
Burgess and Cawley Sullivan committed to 11,000 sq ft at 1050 West Pender**
Vancouver used to be known as the tech start up capital. Many tech start ups would begin their journeys in the Lower Mainland and then cash out. Now, we are beginning to see more and more build their companies here. Big players from Silicon Valley are either already here (Microsoft, SAP) or on their way (Amazon, Apple). Vancouver is rapidly gaining its notoriety of being the Silicon Valley of the North. 

In addition to local factors affecting our market, the federal government has an fairly open immigration policy right now. Canada has an aging population that needs people to help pay for. 

Furthermore, there are approx 300,000 people in Hong Kong who hold Canadian passports and we are seeing many people from that region investing in the area. Asian REALTORS that I talk and work with tell me the language has changed from Mandarin to Cantonese. 
So far, I have been addressing the demand side of the real estate equation. Supply is a vital aspect too. In the beginning of 2019, developers were struggling to sell condos in pre-sales - offering incentives such as avocado and toast for a year (targeting the millennial crowd), luxury handbags, and fancy events were among some strategies used by developers to generate sales. 
However prior to this year, many buildings were pre-sold and have not yet come to completion. Of those buildings, many overseas investors purchased units. It is unclear as to how many will try and sell quickly in an effort to avoid as many taxes as possible. That said, it is certain some will. 
Additionally, the City of Vancouver is undergoing a City Wide Plan. It is expected to be ready in 2022. We will likely see further zoning changes to increase density and encourage development of multi-family homes. We have already seen substantial zoning changes to the Cambie and Granville Corridors. The area surrounding Oakridge Mall will be a standout to the skyline in a short period of time, with the abundance of buildings under construction.

While Vancouver is experiencing substantial construction, there is a fear, based on the future expected demand, that we will still see a shortage. 

My outlook for 2020 is moderate. I foresee a fairly flat year. If someone is looking to get into the market for the first time, now is a great year for that. There are many opportunities to take your time, have subjects in offers, perform proper due diligence. If someone is looking to make a move up, perhaps from a townhouse to a detached home, this too is a great market. Some seller's are open to Subject to Sale clauses, helping with confidence moving forward one will not be homeless if they sell their home. 
At the end of the day, the right time to buy or sell is when it is right for you. Once you are in the market, it really does not matter what the market is doing, as long as you have a great investment and you are continuing your investment in great opportunities, you will always win.

If you have specific questions and your situation, please do not hesitate to reach out. I am more than happy to meet with you and discuss your real estate goals and provide guidance as to how I can help you. 
*Home Price Index explained: https://www.rebgv.org/news-archive/mls-home-price-index-explained.html
**According to the Georgia Straight, November 2018